Chaba Traditional Thai Massages
Our offer in detail
Here you will find special offers in our studio. If you have any questions, please feel free to contact us.
Our offers in the massage studio in Innsbruck
Two excellently equipped massage studios await you in the Tyrolean capital, where an experienced team is happy to be there for you. You can expect a relaxing traditional Thai massage, a pleasant Thai oil massage and a relaxing foot massage. Give us a call to arrange your appointment.
Vouchers for a pleasant massage
Give the gift of well-being to loved ones! We offer attractively designed vouchers for various Thai massages and foot massages. Simply buy vouchers from us in Innsbruck at one of our two locations or online around the clock from the comfort of your own home: Simply fill out the non-binding inquiry form and we will get back to you quickly.

Get relaxation and recuperation for less with our block of 10 treatments. Buy ten treatments and get one treatment for free.
Do you have any questions about our offers? Our friendly team will be happy to help you.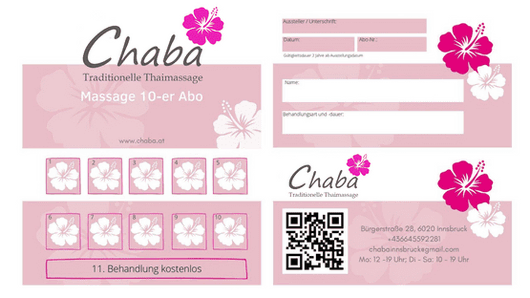 Order online
You can also purchase our vouchers online: Simply fill in the (non-binding) inquiry form opposite and we will get back to you as soon as possible to discuss everything else.